Technical Assistance for CLC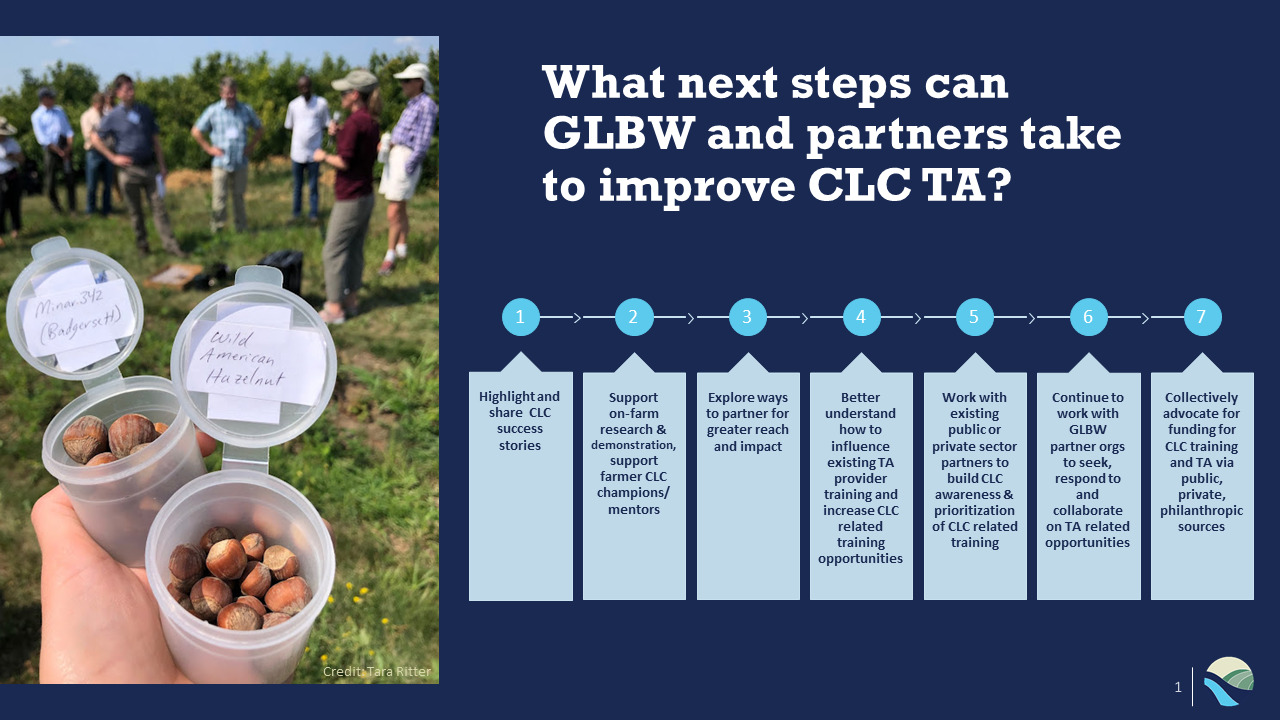 For several years, Green Lands Blue Waters and partners have been asking questions like –

How can we help more farmers get the information they need to increase continuous living cover?
Who will be the next generation of technical assistance (TA) providers?
How do we ensure that those providers are adequately trained, and that funding and policy supports increased capacity for these TA providers to reach farmers, leading to the changes we want to see on the landscape?

From 2020-2021 we asked CLC leaders in our networks to help us answer these questions through a series of interviews, a 10 question survey, and a virtual post-it-note type exercise. We are using the term "technical assistance providers" intentionally broadly. What we are driving towards is what channels are currently or could in the future be effective in reaching farmers with good resources, information and skill building on CLC crops and cropping systems. You'll find the synthesis of what we heard below.
Throughout the spring and summer of 2021, a talented capstone team of masters students from the Humphrey School of Public Affairs continued this work through background research and a series of interviews with county-level staff, CCAs (Certified Crop Advisors), and soil health consultants and trainers across the Upper Midwest. Their work can be found in the report and the presentation below.
Coming soon! Changing Non-operator Landowner Conservation Behavior
Coming soon! Integrating Conservation into Farmland Transfers
Perennial Forage & Grazing
Case Study: Zumwalt Acres: An Intersection of Farming, Faith, and Applied Science through Youth-Led Agroforestry in Central Illinois – GLBW, Jul 2021
Case Study: How NRCS Working Lands Programs Helped the Carneys Transition to Rotational Grazing in Iowa – GLBW, Jun 2021
Fact Sheet: Examples of NRCS program support for CLC farming – GLBW, Oct 2020
Case Study: Using NRCS programs for CLC farming: Haase Farm – Blue Earth, MN – GLBW, Oct 2020
Paper: Summary of the activities of the GLBW NRCS Continuous Living Cover Cohort, 2018-2020 – GLBW, Oct 2020
Fact Sheet: NRCS and the Benefits of Agroforestry – Savanna Institute and WI NRCS, Nov 2019
Paper: NRCS Opportunities for Increasing Continuous Living Cover Farming Systems – GLBW, Jun 2018