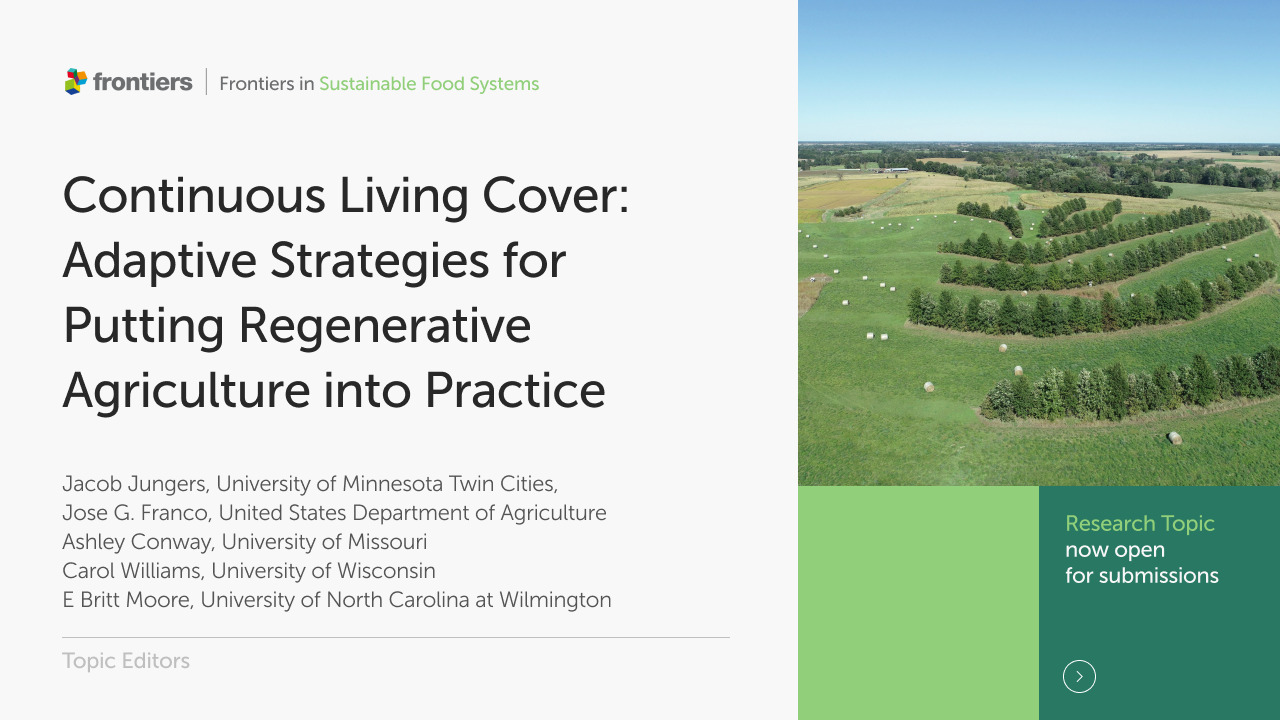 **Currently in Production! Reviewers Needed**
Special CLC Research Topic through Frontiers in Sustainable Food Systems
GLBW's Continuous Living Cover Research Topic is online and accepted articles will continue to be added through Fall 2022. The Research Topic is in the Agroecology and Ecosystem Services section of Frontiers in Sustainable Food Systems.
Our Topic Editors need paper reviewers! Reviewing is an essential role to make this research available to the CLC community. Email Evelyn Reilly reill163[at]umn.edu if interested. 
Continuous Living Cover (CLC) refers to agricultural systems in which there are living plants and roots in the ground throughout the year, including winter cover crops sown between annuals, agroforestry plantings with both trees and herbaceous species, managed grazing systems, and perennial grain, forage, and biomass production. This Research Topic focuses on CLC as it relates to the American Midwest and the unique climatic, policy, social, and economic aspects of this region.
Contributor costs: Frontiers is an open-access journal. Publishing costs are available on the Frontiers website. Contributors can inquire with Frontiers about fee support. Green Lands Blue Waters has secured an additional funding pool to assist with publishing fees for early career, women and people of color, with the goal of encouraging contributions from groups who have faced systematic barriers to participation in research and academic publishing. GLBW's fee support is focused on authors in our primary geographic reach – MN, WI, IA, IL and MO.
Contact Evelyn Reilly reill163[at]umn.edu with any questions about this research topic.